Parishioners from St. Cecilia Participate in Eucharistic Celebration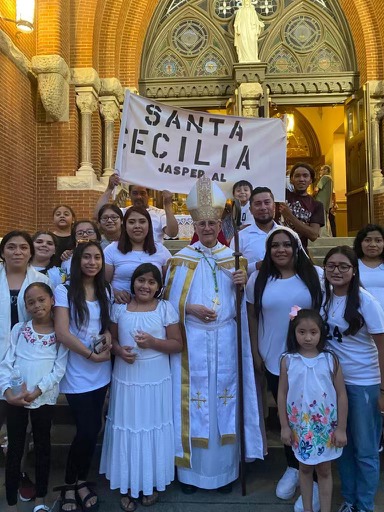 ---
Approximately 20 adults and some children attended the June 19th events, which included participation in the procession through the streets of downtown Birmingham on this Feast of Corpus Christi. These parishioners also reflected on Our Lord's presence in the Eucharist during adoration.
Although a customized banner was ordered from Mexico, it didn't arrive in time for the event. However, we are blessed that Lupe hand-crafted this banner to represent our presence at this important event.
The purpose of the Eucharistic Revival was to establish a renewal of our relationship with Jesus in the Eucharist. We are thankful to have had this contingent of parishioners represent our parish so well. A special thanks to Juan Hernandez Jaimes who serves as our Hispanic Ministries coordinator.

Remember to mark your calendars for the upcoming diocesan Eucharistic Fall Festival to be held at the Shrine of the Blessed Sacrament in Hanceville on Friday, October 22, 2022.