November 19-20 e-Bulletin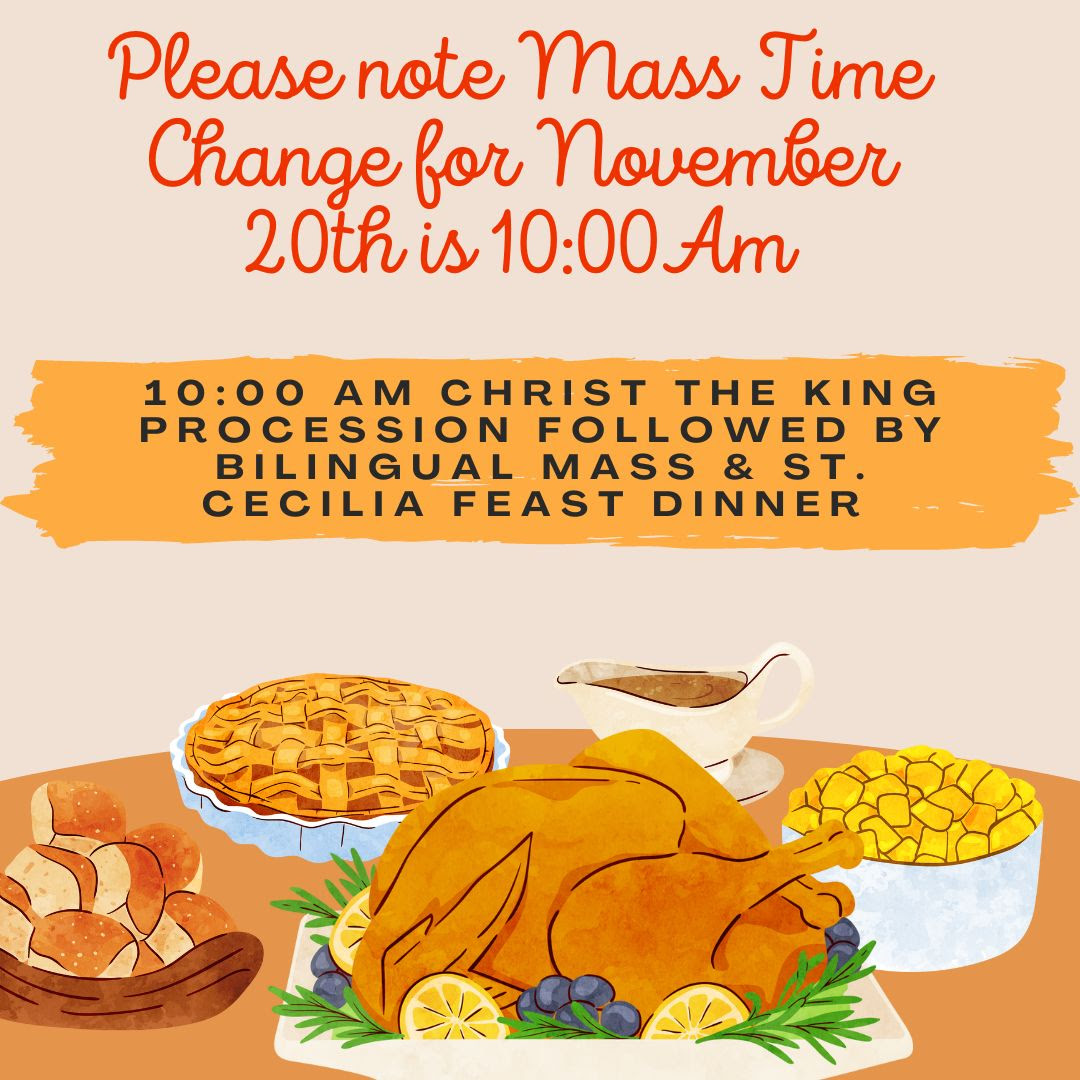 ---
---
---
This coming week at St. Cecilia :
Saturday, Nov 19 ~
Our Lord Jesus Christ, King of the Universe~
4:00 pm Confession
4:30 pm Mass/English
6:00 pm Misa/Español
Sunday, Nov 20
~ Our Lord Jesus Christ, King of the Universe ~

Please Note Mass Time Change
10:00 am Christ the King Procession, followed by bilingual Mass and St. Cecilia Feast Dinner
Tuesday-
Wednesday
11:30 am Mass
Thursday-Thanksgiving
10:00 am Mass
Friday
11:30 am Mass
He delivered us from the power of darkness and transferred us to the kingdom of his beloved Son, in whom we have redemption, the forgiveness of sins.
Colossians 1:13
What are the Mass readings for Sunday, November 20, 2022, the Solemnity of Christ the King Year C?
First Reading – 2 Samuel 5:1-3
Responsorial Psalm – Psalm 122
Second Reading – Colossians 1:12-20
Gospel – Luke 23:35-43:
Celebrate St. Cecilia Feast Day with us!!

The Church will provide the Entrée, pizza, and hot dogs for the kids. We ask that everyone bring a side dish or dessert.
You don't want to miss the opportunity to see this Holiday favorite
Friends in Christ:
We have a BRAND NEW family-friendly event happening for the very first time in Birmingham! A Catholic music festival for all ages to spend a FULL DAY in praise.
There will be Catholic vendors, four headliner musicians including Joel Vaughn and Connor Flanagan, giveaways, Adoration under the stars, field games, Mass with Bishop Raica, and more. It will be jam packed with joy and will encourage all in attendance to live out their Catholic faith!
https://ctkfest.com/
Join us December 1st at Our Lady of the Valley Catholic Church for a fundraising banquet for the Poor of Jesus Christ (PJC), a Franciscan religious order serving the Birmingham Diocese since 2018. These friars and sisters bring Jesus to the homeless, drug addicted and trafficked on the streets of Birmingham. Come meet them and learn more about their apostolate!

Raffle prizes:
- Two original artwork pieces
- Tour and tasting for 6 at Dread River Distillery (value $150)
- Professional photography session (value $300)
- $1,000 cash
- 1-week on Lake Martin in a beautiful lake house (sleeps 20 - value $7,000)

There is no cost to attend, but an appeal for donations will be given.

***Each person attending must register by November 23rd.
Has your contact information changed? Please let us know. We want to keep our files current and have the best contact information to keep you informed about your parish. You can update your information in Parishsoft or send an email to our records clerk recordsclerk@stceciliajasper.com
Please continue to pray for
David Hester
Linda Lewis
Joanna Carroll (Nancy Carlisle's Niece)
Manuel Lores
Karen Prater (Carol Fewox Daughter in Law)
The Church Calendar is filling up fast. If you have an event and need the use of the Social Hall, be sure to reserve the social hall for your event.
Please get in touch with the office to reserve the space.
secretary@stceciliajasper.com
or 205-384-4800 ext. 101
The deadline for submitting information for the weekly bulletin and announcements is Thursday @ noon.
Mass Intentions this week are for the following. Please keep them and their families in your prayers.

Saturday, Nov 19
4:30 pm Mass ~
6:00 pm Misa ~

Sunday, Nov 20
9:00 am Mass ~ pro populo
11:30 am Misa~

Tuesday, Nov 22 ~
Wednesday, Nov 23 ~
Thursday, Nov 24 ~
Friday, Nov 25 ~